With the registered MSI Wrapper you will get all the features suitable for the commercial user


30 day money back guarantee!
The free version of the MSI Wrapper adds a comment to the product name installed in the Add/Remove programs list. This comment will not be shown when using the professional version.

Include files and folders. In addition to the wrapped executable installere the professional version can include other files and folders in the MSI package.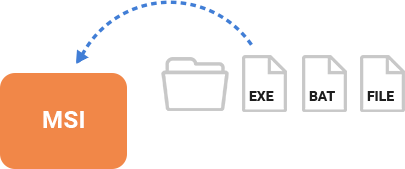 Use Install Actions to run commands before and after running the wrapped installer. You can use this to run included batch files, PowerShell scripts, or other commands on the target machine.
Command line control of the build process. It is possible to launch the program with a set of command line parameters that specifies which configuration file to use. This will make it easier to integrate the tool in an automatic build process.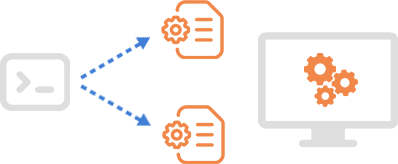 Pass through parameters from the msiexec command line to the embedded setup program. You can control the parameters sent to the wrapped installer when running the MSI package from a command line.
Specify different command line parameters for the wrapped installer based on the User Interface level used when running the MSI package. This means that you can make your wrapped installer know if it is running in silent/quiet mode.


Exit code mapping can be used to make specific exit codes from the wrapped installer result in valid MSI exit codes.
Command line arguments for the wrapped setup can contain macros such as [SourceDir], [FilesDir] and [OriginalDatabase]. These macros will be substituted at runtime with the folder where the MSI package resides and the full path of the executing MSI package.


Specify the input executable using regular expressions to match a file in a folder with multiple files.
Specify the output MSI file name using regular replace expressions based on the input executable.
Frequently Asked Questions​
Are there additional mandatory cost or subscriptions?
Is the license perpetual?
Yes. The license does not expire. You can get free updates one year from the date of your purchase. In case you want to upgrade after that period, you can get a discount on the new version.
How many users or machines can use a license?
Each machine needs it's own license. Two users on the same machine can share a license.
Is support and upgrades included with the license?
You get one year of free upgrades and support with the purchase of the license.
Do you have a return policy?
You will get a full refund within 30 days after the purchase if you are not happy with the product.
What is the delivery time?
The product is delivered minutes after the payment is cleared. It all happens automatically and online.
What is the delivery method and cost?
Products are delivered electronically via email. There are no delivery costs.